Yhteiskunta
Single Market for Education and National Educational Policy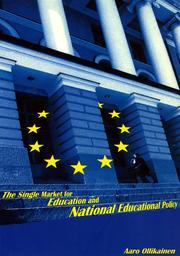 Education has traditionally been precieved as a marginal area of action for the European Union. EU educational policy is based on limited mechanisms of funding and regulation. However, education and training are regarded as key vehicles for future economic, social and cultural development of the Community.

This study concerns the Europeanisation of Finnish education policy argumentation. In this process, concepts, objectives and argumentation patterns devised on the European level tacitly become incorporated in national policy texts. The European Union changes the operating enviroment in which national policies are shaped and executed.

Over the late 1980s and 1990s, Finnish education policy thinking has been effectively permeated by a discussion on European integration. Integration has called for active utilisation of EU education programmes and also contributed to profound transformations in the structure of education and degrees. A concensus concerning the benefits of European cooperation has prevailed. The general objectives of European policies have matched those of the Finnish education policy. Participation in EU programmes has proved lucrative both in financial terms and as concerns the international visibility of Finnish Education.
| | |
| --- | --- |
| Tuotenumero: | 9789512915194 |
| Ulkoasu: | nid. |
| Tekijä: | Ollikainen Aaro |
| Laajuus: | 310 s. |
| ISBN: | 9512915197 |
| Julkaisuvuosi: | 1999 |
| Sarja: | Koulutussosiologian tutkimuskeskuksen raportti 49 |