Oikeustiede
Treaty Conflicts in Investment Arbitration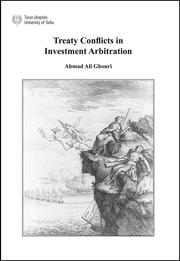 Turun Suomalainen Yliopistoseura myönsi OTT Ahmad Ghourille 5.9.2013 väitöskirjapalkinnon.
The relationship between international investment law and other branches of international law is a source of great ambivalence. This research aims to highlight and illustrate the relationship amongst international investment law, human rights law, environmental law, and EU law from the perspective of treaty confl icts. All these branches of international law are primarily premised on treaties. Treaties are contractual instruments binding on party states under international law, and have no predetermined hierarchy amongst each other. The interest of this research is that in cases where obligations in two treaties confl ict with each other in a way that states can meet obligations arising from only one of the treaties, we need rules to determine hierarchy between confl icting treaties. Such confl icts do indeed exist between investment treaties and human rights treaties, environmental protection treaties, and the TFEU. International law of treaties, both codifi ed in the VCLT and existing outside the VCLT, provides rules for the resolution of treaty confl icts; however, none of these rules work to great satisfaction. Therefore, it remains an open question as to how these treaty confl icts can be resolved in general international law as well as in international investment law.
In general international law, courts and tribunals have a tendency to circumvent treaty confl icts when interpreting and applying a treaty. However, in inescapable confl ict situations, and to satisfy the ends of justice, courts and tribunals have resolved such confl icts by determining an ad hoc hierarchy between confl icting treaties based on value-oriented reasoning, giving priority to one confl icting treaty obligation at the expense of others. Investor-state arbitral tribunals can benefi t from this methodology when interpreting investment treaties. The available fl exibility in reparation in international investment law provides investor-state arbitral tribunals a middle ground to resolve treaty confl icts by making adjustments in the amount of compensation payable to foreign investors. By doing so, investor-state arbitral tribunals will enhance the most criticised legitimacy of the investor-state arbitral system by balancing the rights and obligations of all stakeholders while acting within the normative framework of international investment law.
| | |
| --- | --- |
| Tuotenumero: | 9789512951901 |
| Ulkoasu: | nid. |
| Tekijä: | Ghouri, Ahmad Ali |
| Laajuus: | XIII + 199 s. |
| ISBN: | 9789512951901 |
| Julkaisuvuosi: | 2012 |
| Sarja: | Turun yliopiston oikeustieteellisen tiedekunnan julkaisuja. Yksityisoikeuden sarja A:131 |
Tämän tuotteen ostaneet ovat ostaneet myös