Oikeustiede
Teollisoikeudellisia kirjoituksia IX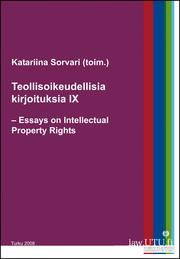 The ninth book in the series Teollisoikeudellisia kirjoituksia (Essays on Intellectual Property Rights) published by the Faculty of Law, University of Turku, consists of four articles and two short presentations on current issues involving intellectual property rights. Unlike its predecessors, this book is written entirely in English.
Dr. Nari Lee's article "Fragmented Infringement of Computer Program Patents in the Global Economy"? discusses how computer program patents challenge the traditional model: contemplating a single infringer committing a complete infringing act within one jurisdiction. The article reviews the patent laws of Japan, the USA and Europe.
Prof. Yoshiyuki Tamura discusses the essence of copyright in his article "Efficiency, Diversity and Freedom - Challenges to the Copyright Institution Facing the Internet Age"?. Tamura considers liability questions regarding Internet service providers and the validity of click-on contracts.
Director Arto Vuori focuses on a form of intellectual property rights, which is rarely covered, namely protection of plant varieties. In his article Vuori looks at the plant breeder's right from a Finnish point of view.
In his presentations LL.M. Jarkko Vuorinen focuses on strong intellectual property rights protection, especially on patent rights, and their effect on production and competition. His arguments serve as opening remarks for a discussion on this current theme.
LL.M Katja Weckström tackles one of the most contested issues on the international trade and intellectual property arena, namely the conflict between the protection of trademarks and the protection of geographical indications. Her article approaches the question by combining the concept of trademark as property with a concept of property derived from the use of property.
| | |
| --- | --- |
| Tuotenumero: | 9789512934911 |
| Ulkoasu: | nid. |
| Tekijä: | Sorvari Katariina (toim.) |
| Laajuus: | IX + 140 |
| ISBN: | 9789512934911 |
| Julkaisuvuosi: | 2008 |
| Sarja: | Turun yliopiston oikeustieteellisen tiedekunnan julkaisuja. Yksityisoikeuden sarja. A 119 |